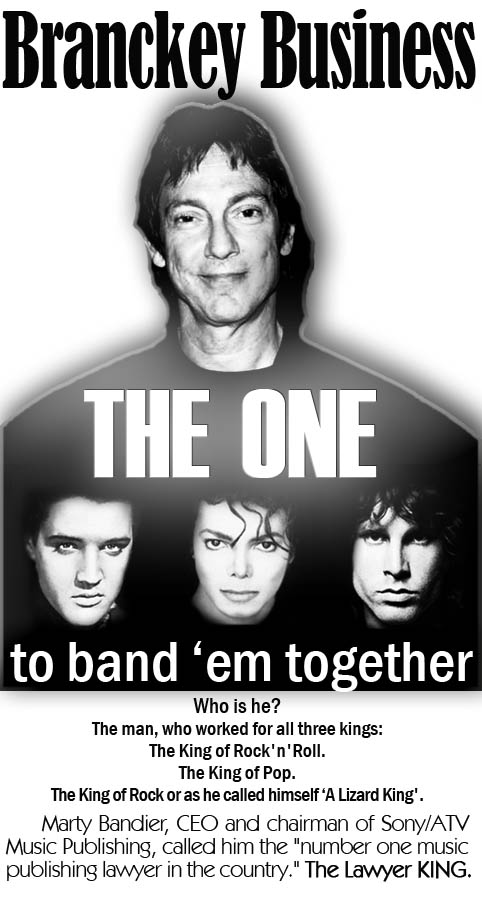 He has represented an unprecedented 29 members of the Rock and Roll Hall of Fame, including Aerosmith, The Beach Boys, The Bee Gees, Dick Clark, The Kurt Cobain Estate, The Doors, Fleetwood Mac, Berry Gordy, Michael Jackson, Elton John, Leiber and Stoller, The Otis Redding Estate, Carlos Santana, The Rolling Stones, and ZZ Top, among others
Among the music publishing catalogs he has represented, acquired or sold include The Beatles' catalog ATV Music, Sony/ATV, Berry Gordy's Jobete Music, the Leiber and Stoller catalog, The Rodgers & Hammerstein Organization, the Kurt Cobain catalog, CBS Songs, and the Sly and Family Stone catalog.
He has also represented such independent labels as Interscope Records, Maverick Records, Rhino Records, Rick Rubin's American Recordings, Jermaine Dupri's So So Def Recordings, and Richard Branson's Virgin Records, among others, and he has represented such celebrities such as Simon Cowell, Mike Tyson, Eddie Murphy and Don Johnson.
Such artists as The Rolling Stones, Michael Jackson and The Jacksons, and Nickelback were in his representation as well. World famous people – world famous names.
But he is not only one of the preeminent entertainment and corporate lawyers in the America today. He is an ardent baseball card collector, and has many rare cards. His uncle, Ralph Branca, pitched for the Brooklyn Dodgers for many years, including the 1947 World Series. And sometimes people call him the pitcher. He is pitcher' in law.
He also has a noted collection of Italian antiques, and is an ardent basketball and music fan. He has a lot of gifts and he is doing his job very creatively. Of cause he is good citizen and has helped songwriters and somebody else who need a help, somebody of his famous clients and friends. He help to members of the music community who need treatment for drug and alcohol addiction, as well as assistance for other financial, medical and personal crises. He gives a helping hand not like a lawyer but like a friend
We are not going to inventory the whole list of his win and gains - much of them are always available in lots of open sources.
But first and foremost

He is the one who bands together three leading musical figures of the time.
He worked for The Doors.
He represented the Presley estate.
He is an executor of Jackson's estate, his longtime lawyer and close friend as well
Everyone of this royal trio died suddenly in unclear circumstances. Lots of people have reasonable doubts about these three questionable authenticity deaths.
If you ever happen to read something about it you will find many interesting identical facts.
But their lawyer John G. Branca is the main thing that they have in common.
#############
Hello Michael .. How are you .. ??? and you know what ? I LOVE YOU !!!
P.S if you read this .. send me an e-mail